Shopworks is a project designed to establish a steady cooperation between designers and museums in order to come up with the idea and function of a museum shop, as well as designing souvenirs which are a reminder of the museum collection and the work of designers at the same time. By choosing not only final artists work for an inspiration, the process and knowledge behind the artwork is highlighted and transformed into a corresponding object or medium. In that way souvenirs have an educational layer as transmitters of various individual approaches, thinking processes or personal artist characteristics. (Museum of contemporary art, Zagreb)

Coauthors: Mia Bogovac, Maša Milovac, Zoran Đukić, Kristina Lugonja, Jan Pavlović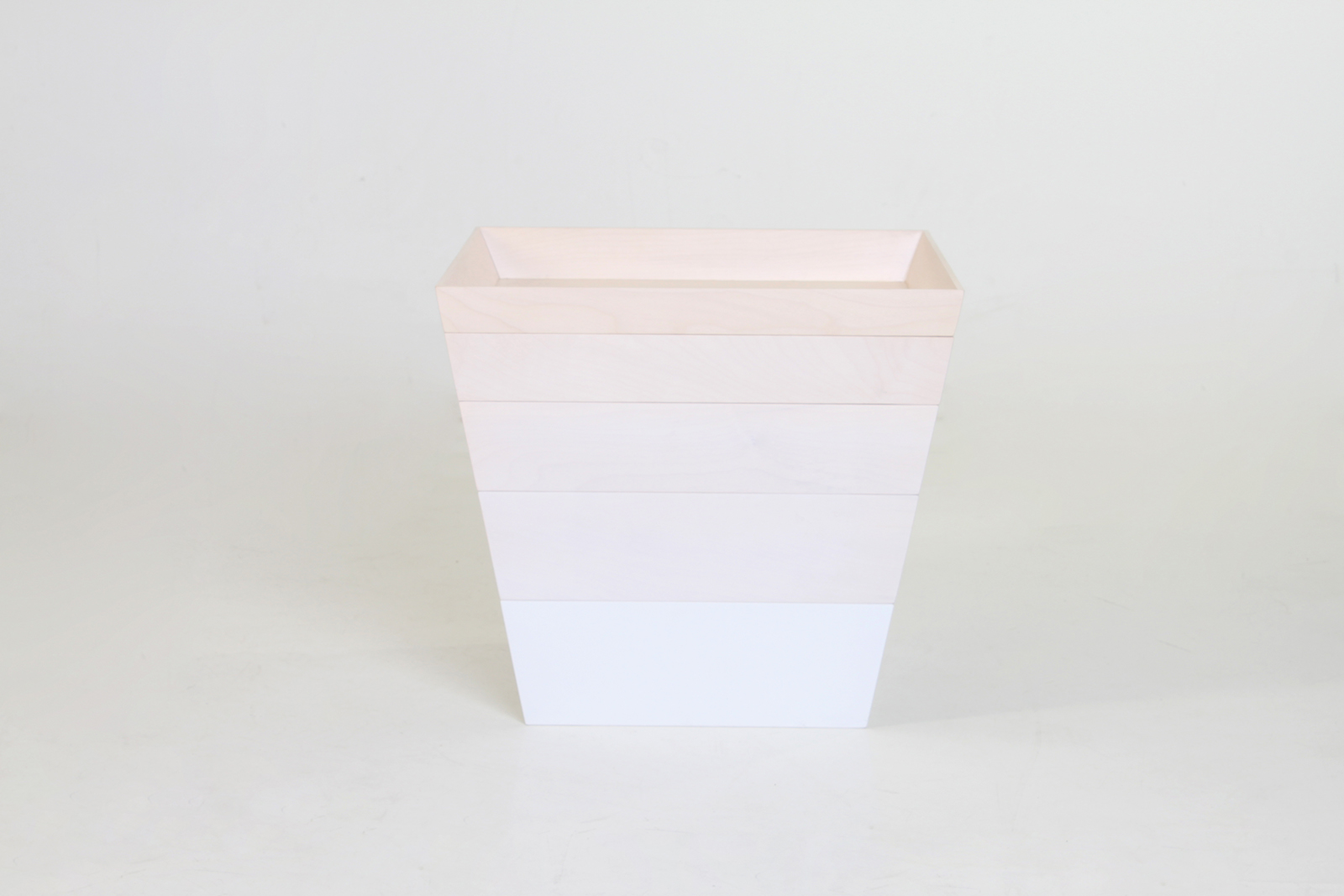 While considering occasional (coffee) tables and their function, the idea of an occasional table which differs in a way we perceive its upper, functional surface, came to mind. Porthos is a living room table made entirely out of separate trays, which fit one into another. When assembled, it fulfils its primary function. Apart, each can be used also as a serving tray, or a storage space. The act of serving food and beverage from one place to another inspired us to make a new, original object. Table is made out of maple, gradually toned, available in different colours.
This product was realised for a "Young Balkan Designers 2011" competition, juried by Konstantin Grcic, Jelena Matić and Maja Lalić
Coauthors: Mia Bogovac, Maša Milovac
We aspired to design an item that would be a reflection of coexistence of items, clothes and space. An item that conceals, but is, at the same time, very breezy and partially transparent.
BEHIDE emphasizes the process of undressing and concealing and enables laying clothes aside. Although it does not fully protect from view of busybodies, with its presence, it separates the space and becomes an item that creates a space of intimacy. BEHIDE, as an item, subtly points to several purposes in the domain of housing and dressing. As a design product, it links and reflects two young Croatian brands. It is a result of cooperation between designers and friends.
Designers: Andreja Bistričić, Mia Bogovac, Matea Bronić, Dora Đurkesac, Maja Merlić, Maša Milovac, Kristina Volf
︎︎︎ Manufakturist

︎︎︎ Dioralop
"Gemišt" is a traditional Croatian drink. Ratios in mixing wine and sparkling water reflect both regional specifics and personal rituals.

How to use: Tilt the glass and pour white wine to the plotted ellipse. Add sparkling water to the top and enjoy a wine spritzer prepared in your favorite way - "half and half", "škropec" or "two thirds".

Coauthors (Manufakturist): Mia Bogovac, Matea Bronić, Maša Milovac, Kristina Volf

Products "Pinch of Salt" and "W/W Glass", joined the official gift list of the Office of the President, Ivo Josipović and Ministry of Culture of Croatia in 2013.



The Adriatic is rich with sun and seawater. Joining these elements in a stone and glass container offers a possibility of creating one's own stock of salt while on holiday. The container is simply immersed and left in the sun. A few moments later a layer of salt is formed around the glass wall. The process is repeatable thus keeping alive the ritual of producing salt in coastal Croatia.

How to use: Submerge in the sea and fill up with seawater. Take out and leave in the sun until the water evaporates leaving only the salt. Use the obtained fresh salt as desired.

Couthors (Manufakturist): Mia Bogovac, Matea Bronić, Maša Milovac, Kristina Volf